The Doub



NERO How hesitantly my mind freezes! Hope on the one hand, dread on the other:
hope is a dreamerís vision

,
fear a Gehenna
When my mind goes back and forth in this dubious way I neither live nor die, but I am unhappy. Unhappy the man for whom hope and fear thus vacillate! If false hope cheats me, I am cheated to my unhappiness. How unhappily I dread, lest some true cause of dread oppress me! How unhappily I die, if my mother does not perish first! A great business is afoot, I confess. Let it be done featly, I pray. Hurry, Anicetus, finish it.
Show yourself a man

.
Serve me, and destroy her
Destroy her, or you are dead. We are both dead: you will have lost your loyalty, I my kingdom, and ruin will overhang the both of us.
Come, hurry, slay, beat, rend, stab, do in my mother

,
so that you may show me a true Caesar. Keep your name of Unconquerable as an unconquered omen. But she,
rich in influence
rich in coin

,
on her guard out of fear
saved by her servantís loyalty

,
will sniff this out and anticipate it in her turn, overturning the scheme, turning it against me. And she will overturn everything along with me.
The ancient vixen does not quickly fall into the net

.
Rather this is a lioness who lays her snares to avoid mine
She will surpass my arts with her art, my violence with her violence, my evil with her own. Will Pentheus drive Agave from Bacchusí sacrifices?
Agave will drive down Pentheus, a sacrifice to Bacchus
Thus there is only one choice: strike or perish.
Strike, Anicetus, and strike deep

.
Unless she is stricken, unless she perishes, my cruel quarry will strike us, and our only choice will be to perish. And thus hope on the one hand, dread on the other, toy with and shatter me. As a wave first raises up a ship, then casts it down, so my proud heart leaps up to the heights, now sinks under the weight of its heavy burden. In either condition it fares poorly, more out of hope and fear than reality. Here instinct says one thing has been done, hope another, fear a third, but they do not say what. Anicetus, preserve my hope, do the thing, banish my fear. But alas, hope flees, fear prevails. I believe what I hope, but what I fear I believe the more. Evils are the more to be feared, as they come the quicker. Thus hope on the one hand, fear on the other, become entangled, travel in new spirals, when great things are awaited. I have hope from Anicetus, but fear from Agrippina. Only Anicetus can place me in security. (Enter Anicetus). And see, he has returned.
Tell me, am I an unhappy dead man

?
Or have I killed her

?
ANIC. Must it be the one or the other
NERO It must.
ANIC. Then thereís no doubt you must hope for one of the two

.
NERO No. But since I remain in doubt I seem to be dying.
ANIC. Thereís no delaying

?
NERO No delaying. You speak of death when you speak of delay.
ANIC. Then Iím speaking of death.
NERO What? Mine?
ANIC. Gods forbid. I am speaking of your murdered mother.
NERO My mother?
ANIC. Yours.
NERO Murdered?
ANIC. And by this hand.
NERO I praise your hand, I kiss it. But you say this on your oath?
ANIC. Upon my oath.
NERO What? Her dead? Can I believe this? Or do you wish

. . .
ANIC. Believe that Anicetus is speaking the truth, no less than you believe you are alive.
NERO I wish to, and I am unable to believe, thus great is this good. Nor is it easy to believe such tremendous things. But tell me the means. But now there is no need to know the means, as long as it assuredly has been done.
It is a thing beyond belief, that you have been able to kill her

.
This is a deed that cannot satisfy me in the hearing. It will not satisfy me unless the eye happily sees what the ear has heard. In the seeing the eye guarantees the mindís security. I want to go and look, if I may do so safely. May I?
ANIC. Why not?
NERO You think her dead?
ANIC. I know it.
NERO Youíve seen?
ANIC. With these eyes.
NERO And by your hands?
ANIC. These very hands.
NERO But ó
ANIC. What?
NERO I am afraid, lest she revive. Unless she has died . . .
ANIC. Look at me.
NERO But if she is still breathing and gains her health
ANIC. Have no fear.
NERO Affirmas? Eo
Aut prodis

,
aut me perdis
aut prorsus beas

.

Adulatio ad Spem Firmavit
TACITUS
(An. 14.10.2)

Matthew Gwinn
Nero
(1603)
[tr. Dana Sutton]


E NOS LARES IUVATE
E NOS LARES IUVATE
E NOS LARES IUVATE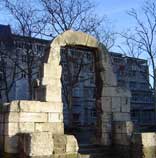 Lenes aurae zephyrique leves,
tectam quondam nube aetheria
qui vexistis raptam saevae
virginis aris Iphigeniam,
hanc quoque tristi procul a poena
portate, precor, templa ad Triviae.
Urbe est nostra mitior Aulis
et Taurorum barbara tellus:
hospitis illic caede litatur
numen superum;
civis gaudet Roma cruore.
Iulia Agrippina Augusta, Octavia 972/82.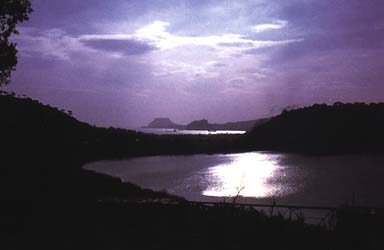 Et praeter hunc Tryphaena

,
omnium feminarum formosissima.
[...] The lines still stood at the ready, and it was plain to be seen that this would be no everyday affair, when the pilot, with difficulty, prevailed upon Tryphaena to undertake the office of herald, and propose a truce; so, when pledges of good faith had been given and received, in keeping with the ancient precedent she snatched an olive-branch from the ship's figurehead and, holding it out, advanced boldly to parley.
"What fury," she exclaims, "turns peace to war? What evil deed
Was by these hands committed? Trojan hero there is none
Absconding in this ship with bride of Atreus' cuckold seed
Nor crazed Medea, stained by life's blood of her father's son!
But passion scorned, becomes a power: alas! who courts his end
By drawing sword amidst these waves? Why die before our time?
Strive not with angry seas to vie and to their fury lend
Your rage by piling waves upon its savage floods sublime!"
[...] Tryphaena, on the other hand, was seized by her faithful servants [fidelissimi servi], placed in a skiff, along with the greater part of her belongings, and saved from certain death [certissimae morti].
[...] Meanwhile, accomplishing the decrees of the Fates, the storm stripped the ship of all that was left; no mast, no helm, not a rope nor an oar remained on board her; she was only a derelict, heavy and water-logged, drifting before the waves. Some fishermen hastily put off in their little boats to salvage their booty, but, seeing men alive and ready to defend their property, they changed their predatory designs into offers of help.
Petronius, Satyricon (101, 108, 114)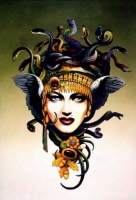 Death Smiles At Us All